Mi-5 and Friday-Fill-in
Posted by in
General
I volunteered for the MI-5 this week:
1. Do you like roller coasters? If you do what is your favorite part? If you don't? Why not? I don't like them. I don't like heights and invariably they involve heights. I don't mind speed…gimme more of that…but the heights kill me…and the upside down…or laying on the sides I am not a fan of either.
2. What is your favorite traditional treat you find in a halloween bag? Its an equal tie between Snickers and Reeses.
3. When was the last time you went to the dentist? Was it routine or was something bothering you? Well I hadn't been in like years….over six I figure then I chipped a tooth and had to go in to a new dentist. I love my new dentist so I am taking care of all those problems now.
4. What was the last book you read that you would recommend? I have NOT been in the reading mood lately…so this is hard…let me think for a minute….
5. What is the theme song to your life right now? Have A Nice Day by Bon Jovi.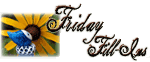 And Now The Friday Fill-in #44:
1. Writing is my favorite form of therapy.
2. If you get my voice mail you'll hear a long drawn out message because we have a standard voice mail greeting at work .
3. My favorite product EVER is Aveda Rosemary Mint Shampoo .
4. I see something orange .
5. When I'm grumpy you might want to steer clear .
6. Compulsive email checking is my strangest habit.
7. And as for the weekend, tonight I'm looking forward to sleeping in, tomorrow my plans include putting up the halloween decorations and Sunday, I want to get my hour back!!
You can follow any responses to this entry through the RSS 2.0 You can skip to the end and leave a response. Pinging is currently not allowed.